Blue Moon South Project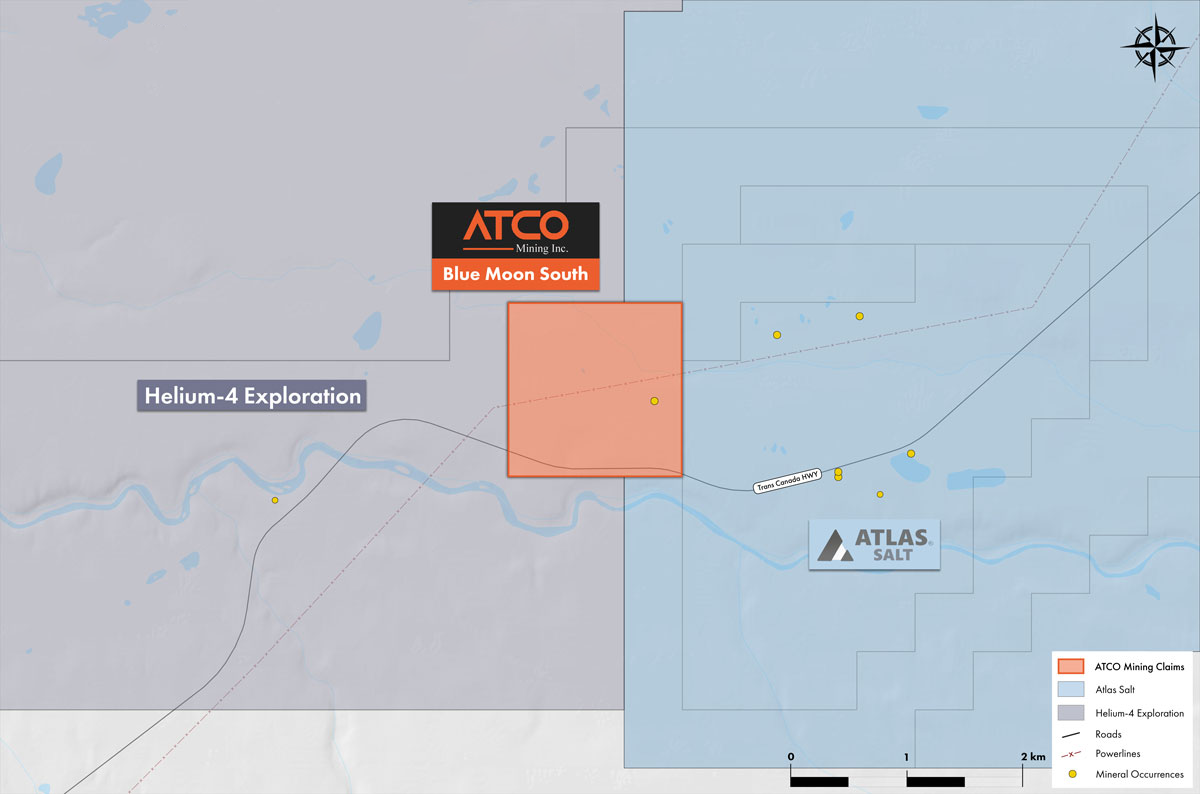 Potential for Hydrogen Storage

Atco is also very well positioned with its 100% -owned Blue Moon South Property which is located 12km to the southwest of the Atlas Salt's deposit and also located in the North West Corner of the Fischells Brook Salt Dome where Atlas' new company, Triple Point Resources, is currently exploring the property for the potential of Hydrogen storage. Atco believes that there is also potential for hydrogen storage on its Blue Moon Property.

Blue Moon South's Claim 032289m is located 10.4 km to the south, southwest of Atco's Lunar North Project claim boundary. It has a historical drill hole ("LR-98-01") which was drilled to a depth of 771.23 meters and intersected a salt dome at approximately 668.66 meters through to 706.0 meters. This 37-meter-wide salt dome will be further explored for potential hydrogen storage as it is located at the required depth of between 500 to 1500 meters where most hydrogen is stored.
Information about Hydrogen Storage:
Salt caverns are artificial cavities which are created in geological salt deposits. Future caverns are generally located at a depth of 500 to 1,500 metres. They are three times higher than the Arc de Triomphe. To create such a cavern, it is first necessary to drill into the salt. The second stage consists in injecting water into the salt to dissolve it. The resulting brine (water mixed with salt) is extracted and leaves room for a large, tight cavern where hydrogen can be stored under pressure.
Why Hydrogen Storage?
Indispensable chain link
Underground hydrogen storage will enable us to support the development of the renewable hydrogen sector by ensuring security of renewable hydrogen supply for all clients and new clients.
Flexibility
Salt cavern offer flexibility regarding their injection and withdrawal cycles to respond to the needs of the hydrogen market. Depending on their depth, salt caverns may be operated at pressures up to 200 bars and allowing for large-volume hydrogen storage (from 9 to 6,000 tons).
Safety
Due to their tightness, salt caverns allow for safe storage of large quantities of hydrogen under pressure. The first hydrogen storage cavern, which was built in the United Kingdom in 1972, is still in service.